"One of the Coast Guard's most peculiar and long-tenured volunteer rescuers provides a patriotic inspiration in the post 9/11 era."
The Coast Guard welcomes new civilian volunteers to its Auxiliary to perform its many important missions, especially in the aftermath of September 11th when they have never been needed more.  Auxiliarists come in all shapes and sizes, and barring a criminal record, all US citizens can make a difference regardless of their skills.
A good example is one of the Coast Guard's most peculiar, and patriotic volunteers, Nantucket Island's legendary Mildred Carpenter Jewett, affectionately known as "Madaket Millie," (1907-1990).  Even though she lived on a small island 30 miles off Massachusetts's Cape Cod, she proved to be a consummate patriot, volunteer Coast Guardsman in eight different decades and an unfaltering friend to those in need, both animal and human.
Madaket Millie was a curmudgeonly curiosity to the Nantucket tourists whom she coined "Mop heads" because of the noisy contraptions they drove.  But to most islanders, celebrity or not, and especially the Coast Guardsmen she cared deeply for and served alongside for more than 75 years, she was soft to the core.  This, despite a hardened exterior that lifted a 283-pound driftwood log, killed a 300-pound menacing shark with a pitchfork and drove away a mail order husband — twice.
Early Years and Connections with the Coast Guard
Millie was born on September 24, 1907 at Nantucket.  Millie's family moved to her grandmother's farm in Madaket Village at the western end of Nantucket in 1911 when she was four years old. 1 Some stories tell of her doing chores for the nearby U.S. Life-Saving Service 2 Station Keeper and his family this same year. Enamored with the ocean, its mystery and strength, Millie would often sit atop her house and gaze out to sea for hours.
Her mother left when Millie was six months old because of her husband's abuses.  However, she and her dad were quite close until his suicide in 1955. 3 Millie; her father, a fisherman and scalloper; and her older brother, all lived with her grandmother Etta Jewett.  Millie pitched in, opening scallops beginning at age seven. 4
Millie's education was limited by her father's long work hours, and Madaket's isolation, eight miles from Nantucket's school.  Most of her education came from listening to her grandmother read aloud, while Millie and the adults shucked scallops.
Millie's first brush with a real maritime disaster came during World War I when the 382-foot steamer Ruby, caught in a Nor'easter storm, and guided off course by a German saboteur, grounded off Madaket.  Not much is known about Millie's role in the recovery of the vessel's badly needed cargo of oil, but it's certain the days long salvaging of the Ruby made a lasting impression on the 10 year old. 5
By age 11, Millie was credited with the strength and abilities of any two surfmen at the Madaket Lifesaving station.  She could roll over a dory, launch it, and fish with the best of them and "could handle any sort of craft in almost any type of blow." 6
When Millie was 15, her grandmother and constant companion, passed away leaving her extremely lonely. 7 At age 27, Millie sent for and married, Charles Pease, the only man who wrote back in a lonely heart's club solicitation.  Soon, her diminutive Frenchman from Yonkers had run away.  In her lifetime, Millie took less than 10 trips off the island, but one was to retrieve her wayward mate. Soon thereafter, he got a head's start and left the island by airplane, this time for good.  When Millie died in 1990, official records indicated that she and her husband had divorced and he had predeceased her a few years prior. 8
When Millie was in her twenties, she ran a small summer ice cream stand that featured "black, white and brown" (chocolate, vanilla and coffee) ice cream. 9 Her parlor was popular with the Coast Guard crews who had few distractions at night. 10  In later years, a customer asked Millie if she had any strawberry ice cream.  Millie responded, "It says black, white and brown up they-ah. I don't see no pink!" 11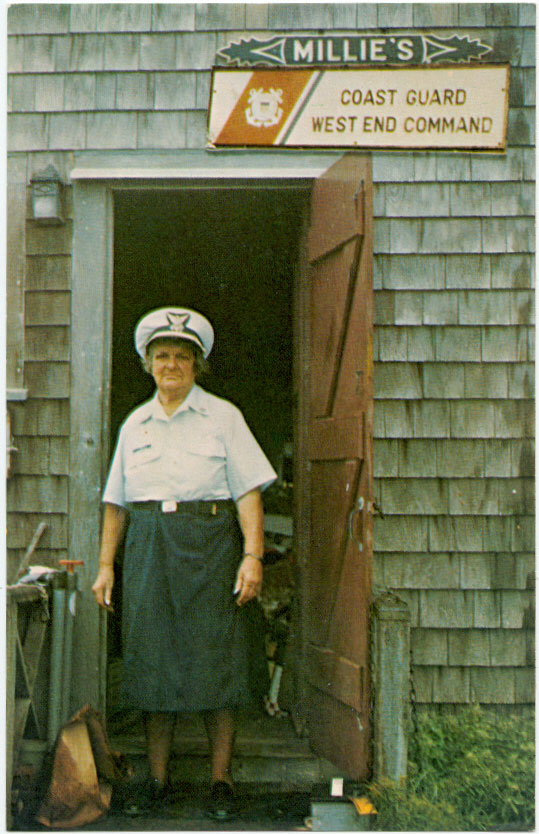 "People, people, thank God for dogs!"  
During World War II the Coast Guard swelled to 250,000 personnel.  Among these were 24,000 Coastal Defense specialists and 1,800 dogs that were trained to accompany Beach and Port security personnel on regular patrols. 12
When asked how she thought of herself, Millie responded "first of all as a dog trainer." 13 She yearned to join the Coast Guard or any other service, but her poor eyesight kept her out of the military.  However, her way with animals made her a natural to train canines.  Very soon, Dogs for Defense, from Dedham, Massachusetts, enlisted her as a volunteer trainer. 14
Millie's number one challenge was to obtain enough meat for her Shepherd and Pinscher pups who had to weigh 60 pounds around the time of their first birthday to be eligible for more advanced training.  She did this by sacrificing her own meat ration, an extremely scarce commodity. 15 Millie trained six dogs and had 13 more in training by the end of WWII.
Millie was one of those gifted humans who could communicate with any animal.  Her house at Madaket was often a refuge for animals of all variety, especially those injured.  Neighbors observed her cupping swarms of angry bees and wasps in her large hands, only to release the completely becalmed creatures moments later. 16 On another occasion, a wounded swan limped to Millie's door and stayed until it healed. 17
Millie downplayed any special connections to dogs in a letter to a close friend, describing canine conversations: "the dogs go WOOF!" 18 But, on another occasion, she expressed a distinct preference for sleeping with the dogs because "a dog will never leave you." 19
Legend Lifts Log
While Millie was training her war dogs in 1945, she watched as four Coast Guard recruits inspected a large log on the beach.  The young men's efforts to lift the driftwood, including sliding their hands under it and encircling the trunk and heaving in unison — failed miserably.
Millie walked over to the log and said, "Stand back, and let an Islander try it." By this time, a small crowd of onlookers watched intently.
Millie walked up to the trunk end, grabbed the tip and flexed her considerable muscles.  In one deft move, she easily hoisted the heavy log on to her shoulders and left the crowd without a word.  The driftwood behemoth was later brought to the scales and weighed a whopping 283 pounds! 20
"The Only Thing I Know is the Coast Guard, It's my Life!"
Millie's contributions to the war effort went beyond training dogs and her beach patrols that kept a sharp lookout for ships in trouble and German U-Boats.  On one occasion, she towed a live mine away from shore to a US Navy minesweeper in deeper water. 21
By 1946, the Coast Guard, convinced that new radio and radar technologies made it unnecessary for more than one rescue station in an area, closed Madaket Station.  It was a sad day for Millie.  Convinced of the need for a presence at Madaket, she remained vigilant for those in distress.
On January 3, 1947, the same day the Madaket Station closed and its crew moved to the Brant Point facility, the 400-foot Panamanian steamer Kotor ran aground in a heavy fog off Madaket.  The master of the vessel, completely disoriented in fog, had misdirected rescuers to a location 40 miles away, where a massive search was underway. 22
Millie spotted the Kotor's masthead lights where they didn't belong near the beach, immediately alerted the Coast Guard and organized the local recovery effort.  She quickly led lifesavers and salvers to the grounding site.  Referring to the new technologies that led the Coast Guard to close the Madaket Station, Millie remarked, "that high tech stuff was no help at all!" 23
Millie's and several others' vocal protestations to keep the Madaket station open after the Kotor grounded fell on deaf ears.  The Coast Guard further rationalized the Madaket station's closure by indicating mariners in the area had never been safer because Millie was on watch! 24
Already a volunteer in many ways for 36 years, Millie in 1947 was made an official active member of the Coast Guard's civilian arm, the Auxiliary. 25  Just two years later, she assisted the charter fishing vessel Constance when it became swamped.  Millie dispatched and coordinated the response of all people in the Madaket area who could help. 26
In 1952, the Coast Guard gave her the honorary title Warrant Bosun, W-1, in the regular Coast Guard. 27
Maritime Protector 1, Marine Predator 0
On October 4, 1954, the island was still feeling the effects of Hurricane Edna, and strong ocean swells swept an 11-foot, 300-pound blue shark into nearby Hither Creek.  Millie was in her back yard cutting wood when she "heard this critter thrashing in the creek." 28
Initially, Millie thought it was a serpent.  All that she could see was the fish's fin sticking six inches out of the water.  Children were swimming nearby, and she knew she had to do something, so she set off in a skiff with the only weapons she had, a pitch fork, a rake and superhuman strength built up from years of shucking scallops.
A neighbor in a powerboat helped corral the leviathan and in Millie's own words, she "stuck a pitchfork in him and it goes 'boom!' — nothing happens.  Their skin is too tough.  I don't know if it's tougher than mine cause I never stuck a pitchfork in mine.  But, it's some kind of tough, I know that," 29 Millie opined.
By this time, the shark knew it must kill or be killed.  Millie described the struggle as follows.  "Every time the big critter came for me and the boat, he'd get a darned good jab from the pitchfork.  It was the most comical setup you'd hope to see.  There was no blood or nothing like that." 30
Ninety minutes after crisscrossing the creek several times by the two boats and many engagements later, Millie exhorted "we were getting bushed but the big fish finally turned belly up and surrendered." 31
Millie and her neighbor towed the beast to shore where for good measure the local state trooper put a bullet in its head.  She typically downplayed her adventure and said, "It was just a day's job, that's all." 32
Formal Status as the West End Command
In military tradition, to have "command" is a sign of complete trust by one's superiors and the vesting of total responsibility.  In 1965 Millie was promoted to the rank of W-4, Honorary, and bestowed the title "Commanding Officer, West End Command." 33
On April 25, 1967, Millie's vigilance was rewarded when she spotted a crippled US Air Force EC-121H  "Warning Star" aircraft on fire, crossing over the island at 100 feet of altitude, engines spitting fire and metal, shedding parts, and about to crash one mile west of the island.  The pilot, Colonel James Lyle, USAF, opted not to try an emergency landing at the island's airport to avoid killing innocent civilians and ditched in the ocean. 34
Part of the broken fuselage ended up in Millie's yard as the crippled craft sputtered overhead.  Millie immediately pinpointed the crash site and alerted rescuers, who saved the plane's navigator and sole survivor, Lieutenant Joseph Guenet, who was miraculously ejected from the fuselage as it broke in two.
Nineteen seventy-five was a banner year for Millie.  In April, she was authorized to fly weather-warning flags for the Coast Guard at her home.  Local fishermen greatly appreciated this service, which she performed with one caveat — she would fly the flags when she wanted and how she wanted. 35  By this time, she had 65 years of experience observing and predicting the winds and seas and needed no direction.
In June, the Coast Guard surprised Millie during her visit to the cutter White Sage in Nantucket harbor, when the guard officially recognized her 1965 promotion to the officer ranks.  Millie's reaction, referring to the 10-year delay in acknowledgment, was frank and typical, "It's about time!"  According to her friend, summer resident Fred Rogers ("Mr. Rogers"), "It was the proudest moment of her life." 36
In July, the Coast Guard awarded her its highest civilian award, the Meritorious Public Service Commendation.  Captain Robert Hanson, the former regional commander, noted: "Millie played a major role in many maritime events and helped ease or avert coastal accidents.  She has given unselfishly of herself, her energy and her time to the people of both the Madaket Lifesaving Station of years past and to the Brant Point Coast Guard.   We cannot begin to describe the feelings we have for her. Even those who never worked directly with her are attached to her.  She is a great lady." 37 In her short acceptance speech, Millie economized and said "I've been doing this for 50 years, and I'll do it for 50 more if I can."
Legend Locks Lips
Millie had a wonderful sense of humor.  One former Brant Point crewman, noted "she scared the newest crewmembers without even trying." As part of her weekly ritual visits to the station, two personnel were dispatched to pick her up.  Sometimes, Millie would grab a new crewman by the shoulders and plant a "long, wet kiss right on the lips." Seasoned crewmen knew that once Millie had you in her grasp, "you were not going to break her grip." 38 The Old Salts did not immediately tell the rookies that all they had to do was salute Millie as soon as she came to the door and she would salute back, forgetting about the kiss.
Each time a crewman departed the station after a successful tour, they would be given a crisp five-dollar bill and a sharp salute. 39  Captain Bill Nolan, USCG (Ret.), the regional commander from 1981 to 1984, recounted a close encounter with Millie.  During his departure ceremony, and a rare trip off island for Millie, she was so happy for Captain Nolan that she gave him the "wet one" and a five-dollar bill.  And, the gifts didn't stop there, as Captain Nolan later noticed that dog-lover Millie had given him fleas, too!
Famous Friends and a Thin Veneer of Vulgarity
Millie has been written about in the Boston Globe, Boston Post, Christian Science Monitor, Yankee Magazine, Reader's Digest and appeared in a National Geographic layout as well as an edition of "Mr. Roger's" TV show.  She even was featured on her own post card and is the subject of a modern children's book.  Despite her notoriety, she remained purposefully out of the limelight, preferring mostly her relationships with animals.  Offered the opportunity to go to New York for a benefit, she declined, reasoning she'd rather spend the money "on my dogs."
Bothersome reporters seeking the legendary Madaket Millie were frequently met with the familiar refrain "Get the hell out of here!" One was even Karate chopped in the throat upon arrival and rebuked sharply when Millie caught him surreptitiously taking pictures of her three-legged kitten.  This same reporter attempted to butter Millie up with a blueberry nut cake, which Millie quickly tossed in the refuse heap.  Her response to the offering was typical, "Is this a bribe or a come-on?"
Despite this thin veneer of vulgarity, Millie routinely kept an eye on the homes of many ordinary people when hurricanes or strong Nor'easter gales threatened.   She also took care of those who opted to stay behind and ride out the storm.
According to her friend Mr. Rogers, "Millie visited an elderly neighbor four times a day to put glaucoma drops in her eyes.  And, when a recluse fell ill, Millie moved in and slept on her bedroom floor."  According to Millie, "It's not good for sick people to be alone."
Legend leaves legacy
After being diagnosed with a brain tumor in 1981, submitting to one off-island surgery and lengthy stay in Boston, Millie's condition worsened in early 1990.  She refused needed follow-on treatment, opting to spend her final days near the people, animals and place she loved most.  She died March 1, 1990 at the age of 82, having assisted the Coast Guard in one capacity or another for more than 78 years.  She was not alone in her final days.
Millie would have loved the March 24, 1990 remembrance ceremony the Coast Guard organized in her honor.  More than 300 people from all walks of life, from seaman to admiral, from laborer to lawyer, and politician, attended.
A military ceremonial platoon rendered honors and a bugler played taps.  Flags at Coast Guard facilities on were half-masted in her honor.  But, most of all, she would have loved her final helicopter ride which had been among her last wishes.  Coast Guard records indicate Millie was evacuated from the island by their aircraft at least twice.  Each time, she insisted on wearing her dress uniform and that the aircraft take the shortest route back when returning her to her cherished Madaket.
At the end of the remembrance ceremony, the Coast Guard helicopter crew carefully spread her ashes over Hither Creek, forever commending her to the place she loved so dearly.
All that remains of Millie's belongings are a few artifacts in a local museum.  But the legacy of the woman who dedicated her life to the safety and security of others will live on in the hearts and minds of the hundreds of people she touched.
Her selfless devotion to her country and those in distress, despite adversity, remain an inspiration for Americans in the post 9-11 era.